For a list of Golden Articles, click [1].
Golden Article
This is a Golden Article, that means this is one of the largest and with the most info pages! You still can edit it, but only if necessary.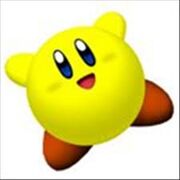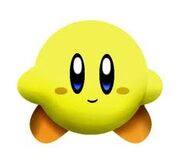 "But nobody cares about your opinion."

—
Chris
"Quick, Shy Guy, before the Teletubbies smash us, there's something I want to tell you!Chris and I are best friends!"

—
Kirby
Chris is a character from SM64 bloopers that was introduced in The Kid. He actually wears an invisible M hat that barely anybody knows about.
Appearances
Bloopers
Race for Pasta
Tubbie Wonka: Factory Crash
Planet of the Teletubbies (mentioned)
Shy Guy's Burgers and Fries
super mario 64 movie: the mistake that caused alternate
To Catch a Machinimist
Basilisk Vengeance (minor)
Unparented
Chris and the Queen of Mean
Movies
Video Games
Chris has appeared in Super Mario 64 Bloopers: The Videogame as an NPC. Chris does not show up until the very end of the game (and does not appear if the player beats the game in the Bad Ending). During Mario's and Luigi's Welcome Home! party, SMG3 and Bowser break in the castle and disturb the fete. Along with Toad and Toadette, Chris was numbed and kidnapped by the duo. Mario (and Crash Kandicoot, whom Mario doesn't notice) chases the two to Heinous HQ. Chris, Toad and Toadette are liberated upon defeating SuperBowserGlitchyKing.
In Crash Kandicoot's bloopers.
Chris appears, but his 'shoes' are red. Despite him appearing, Kirby doesn't.
Trivia
His invisible blue hat is the same as SuperMarioGlitchy4's hat.
His hat should appear when Ultraduckguy4 gets his photo-shop back.
His name is similar to the SuperMarioGlitchy4 character, Chris, and also the TV star, Chris Rock.
Chris' design is actually based off Kirby (though he's recolored).
It was revealed in Planet of the Teletubbies that he and Kirby are cousins.

He was mentioned in that special, but never really appeared.

Chris and Toadette (and all enemies and sub-bosses exclusive Heinous HQ) are the only characters in the game to only appear if the player beats SMG3's Tower with all Power Stars (meaning that Chris and Toadette won't appear in the Bad Ending).
He is a playable character in SM64: Double Kart and his partner is kirby.
He has a oshawott.