Sorry for the mess.
This page is a stub.
You can help by expanding it (click the "Edit Button")!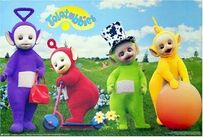 Planet of the Teletubbies (Japan and Italy title The Terror of Teletubbies) is a Sm64 bloopers special that will be released on October 13, 2014 in the US, July 22, 2014 in AUS, August 30, 2014 in Asia, October 22, 2014 in LA, October 28, 2014 in Italy, November 8, 2014 in the Netherlands and November 29, 2014 in Japan, with all releases having a running time of 74 mins (including Bonus Features). In this special, The Teletubbies try to take over the Mushroom Kingdom. Only three characters can stop this madness: Mario, Shy Guy and Steve! Will they save the day? Find out in Planet of the Teletubbies!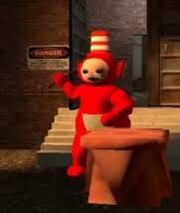 Characters
Bonus Features
Teletubbies Everywhere sing-along
A Trip to Teletubbie Land sing-along
Which Teletubbie are you? game
Deleted Scenes
There was to be a scene where some of the Teletubbies invaded Steve's Cooking Crap Shop and Steve sucked them up in his vacuum cleaner. This was cut for unknown reasons.
There was also originally going to be a scene where Shy Guy had a nightmare of Teletubbies grabbing him and throwing him in a lake and drowning. This was probably cut for being a little too scary.
There was another scene where Mario made a puzzle of a Teletubbie and ground pounded it into pieces. This was also cut for unknown reasons.
Trivia
Mario ended up having to team up with Shy Guy and Steve to stop Teletubbies.
Ivo Robotnik uses his catchphrase in this blooper as usual.
Waluigi mentions his rubber ducky at one point in the blooper.
Steve references SpongeBob SquarePants at one point, saying "NO! Please don't throw me into the river! I know a sponge who lives in a pineapple and he's gonna annoy me for sure!".
Running Gag: SwagTubbie and Custard Tubby driving in their car with the song "Thrift Shop" heard playing on the radio.
The title is a reference to the motion picture, Planet of the Apes.
References to Wallets and Dinosaurs, Sonic the derphog: Eggventure (GET IT?!), Birthday freakout, Luigi's Big Day, Back Into the Fourth Dimension, An Adventurous Drive and 99% beroken are made.
Despite Tubbie Wonka appearing the Toast Factory doesn't.
Apollo from The Super Mario 64 Movie: Legend of the Star Spirits reappears despite only making a cameo.
This is to date the only special Starman3 doesn't appear in any way.
Shy Guy references when his toaster was missing in "Where's My Toaster?" when the Teletubbies take his toaster.
It is revealed that Kirby and Chris are best friends even though Chris didn't actually appear.
This is the first blooper Steve says SuperMarioGlitchy4's name ("Luke Lerdwichagul").
This is the debut of Chain Chomp, Mario's 4 emotions, Miss Tubby, SwagTubbie, Dr. Robotnik (Teletubby), Custard Tubby, Tario and Suigi in a special blooper.
This is also the debut of Dr. Robotnik (Teletubby) and Custard Tubby in Sm64 (fanon) bloopers.
This is the first special that neither Bowser or SuperMarioGlitchy3 appear.

However, despite Smg3 not really appearing, he was mentioned by the Teletubbies.

The scene where the Teletubbies chase Luigi is also used in Luigi in Teletubbie Land.
In Japan and Italy, this special is titled The Terror of Teletubbies.
This special takes place between the first season and second season.
SuperEmiga, EmigasFist and Zenon the Raptor appear as minor antagonists in this blooper.
This is the first time Steve plays a jigsaw puzzle.
A picture frame of Noo Noo (a vacuum cleaner from Teletubbies) can be seen in one of the Teletubbie's house.
This special takes place after The Super Mario 64 Movie: Legend of the Star Spirits.
This is to date the only special Toad makes a cameo.
It is revealed that Pianta is actually afraid of heights.
Goofs/Mistakes
Kirby says Chain Chomp is on vacation, but he later appears in the Mushroom Kingdom. However, he could've just been mistaken.
Tario and Suigi appeared before their introduction (the Season 3 episode, "SuperMarioGlitchy4 Goes Missing") meaning that the audience wouldn't know who they were.
When Mario and SwagTubbie are starting their race, Yoshi can be seen running in the background. However a few shots later, he appears next to Mario.
After Tubbie Wonka races past Princess Peach and Enzo, a camera can be seen possibly the camera that records this special.
Mario said to Smg4 that he spilled spaghetti all over the floor, but only a tiny speck went on it.
Kingdom is spelt as "Kingdon" on the back cover of the DVD.